Search
---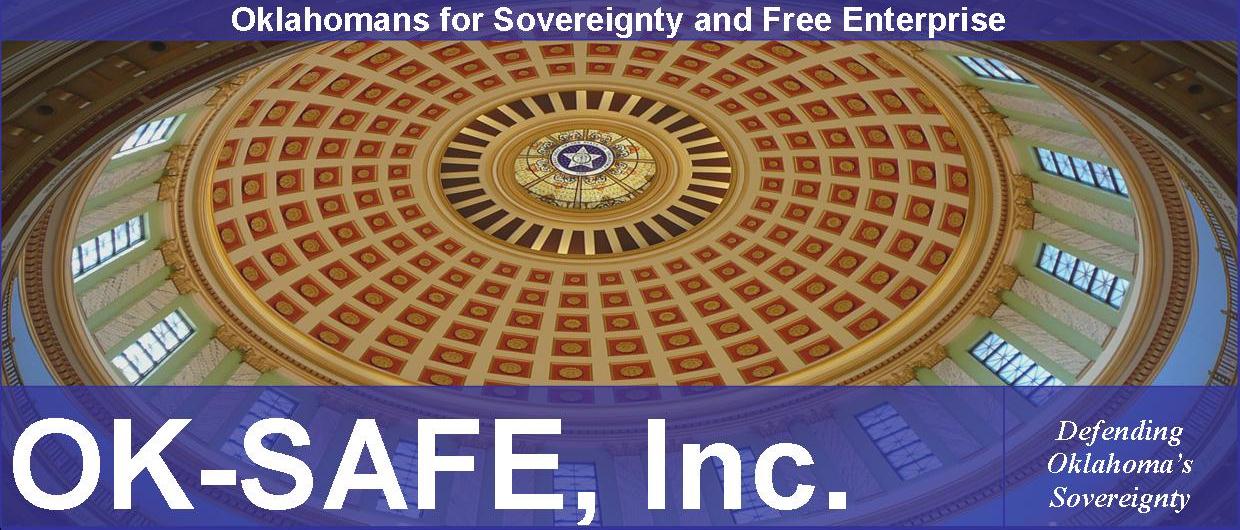 Non – Partisan Oklahoma Voter Guide
Daniel Webster warned, "There is no nation on earth powerful enough to
accomplish our overthrow. Our destruction, should it come at all, will be
from another quarter. From the inattention of the people to the concerns of
their government, from their carelessness and negligence. I must confess
that I do apprehend some danger. I fear that they may place too implicit a
confidence in their public servants and fail properly to scrutinize their
conduct; that in this way they may be made the dupes of designing men, and
become the instruments of their own undoing."
2011 TULSA
MUNICIPAL ELECTION
| | |
| --- | --- |
| September 13, 2011 | |

2011 City of Tulsa Municipal Election Candidates

2011 OK-SAFE Tulsa Municipal Voter Guide Questionnaire

2011 OK-SAFE Tulsa Municipal Candidate Answer Grid
| | |
| --- | --- |
| OKLAHOMA LEGISLATIVE OVERVIEW | |
Action Forums -
Save The Dates!

I) Tulsa Action Forum:

Date: No June Meeting

Hardesty Regional Library, 93rd & S. Memorial, Tulsa, OK

6:45-8:15 pm


II) OKC Action Forum:

Date: No June Meeting

The Village Library, 10307 N. Penn Ave., The Village, OK

6:45-8:15 pm

OK-SAFE Action Forums - more than just talk.

Note: The libraries are meeting places only and do not take a position on the content of the meetings.


Save The Dates:

6/12/10 - Reclaiming Missouri for Christ, Salvation Army Auditorium, Springfield, MO

7/9/10 - Patriot Preacher T.E.A. Party - Truth Exalts America, Oklahoma State Capitol, 1:00 pm

7/9/10 &7/10/10 - Reclaiming America for Christ, Trinity Baptist Church, Yukon, OK.

Statewide Elections:
Primary: Tues. 7/27/10
Runoff: Tues. 8/24/10
General: Tues. 11/2/10

8/6/10 & 8/7/10 -
'Wake Up America' Conference, Oklahoma City, OK.

More details soon.

Truth in Focus Radio

Be sure to tune in to listen to OK-SAFE's America in The Balance radio program on Truth in Focus Internet radio.

5/30/10 - Guest Vicky Davis, researcher, reveals information about Intermodal Commerce Zones, foreign trade zones, and foreign student programs in U. S. universities

5/23/10 - Guest Ralph Cubbler, founder of Patriot Seed Store, discusses non-GMO and heirloom seeds.

5/16/10 - Special Guest Rep. Paul Wesselhoft discusses the veto of HB 2569, prohibiting RFID tags in OK DL/ID Cards.

5/2/10 - Interview with Jenni White, co-founder of ROPE, discussing SQ744 and other public education concerns.


Other Truth in Focus Radio Programs:

Heartland HQ/Heartland Nation - Host Bruce DeLay -Sounding the Alarm in today's church
Fresh Black Coffee - Host Eddie Huff
Dividing Line - Hosts Bill & Ruth
Jerry Robinson- Host Jerry Robinson

If you wish to Advertise on Truth in Focus Radio, click the Contact button on the Truth in Focus home page.

www.truthinfocus.org/radio

"Now the Lord is the Spirit, and where the Spirit of the Lord is, there is liberty."
2Cor 3:17

Randal O'Toole Video Now Available


For those who may have missed the recent Randal O'Toole, event held in Tulsa and Oklahoma City, the video is now available for a $20 donation to OK-SAFE, Inc.

O'Toole, Senior Fellow at the Cato Institute, spoke in detail about the hazards of Urban Planning, SmartGrowth, and New Urbanism. Also featured speaking is Randy Bright, Church Architect, who has written extensively on New Urbanism and PlaniTulsa.

Email Video Requests to:
oksafe@windstream.net

Donations of $20 for the video can be made online at www.ok-safe.com or mail checks payable to OK-SAFE to:

OK-SAFE, Inc.
P.O. Box 33148
Tulsa, OK 74153

Donations are not tax deductible.

Dues Reminder
2010 OK-SAFE Membership dues are due for 2010.

Thanks to all you have paid their dues or who have made donation.

You can help OK-SAFE defend Oklahoma's Sovereignty by becoming a paid member.

Individual dues: $50/yr.
Organization dues: $100/yr.

Donations are not tax deductible. See our website for details.

"Now there was a long war between the house of Saul and the house of David; and David grew steadily stronger, but the house of Saul grew weaker continually"
2 Samuel 3:1

OK-SAFE, Inc. Newsletter
6/2/2010

OK Legislative Session Ended 5/28/10 -
A Brief Overview



A Very Brief Overview of the 2010 OK Session

The second session of the 52nd OK Legislature ended on Friday, May 28, 2010.

As of 6/2/2010:

Bills Approved by the Governor: 290

Bills Pending Approval by the Governor: 216

Bills Vetoed by the Governor: 16

Veto Overrides: 3

Failed Veto Overrides: 5


Not one bill supported by the grassroots in 2010 became law in Oklahoma.

Despite the rhetoric and the practiced political spin offered by the politicians about representing the people, it is evident that the 'leadership' (currently Republican) in both the House and Senate is influenced by some source other than electorate. This source (or sources) wields legislative power in Oklahoma and carries more weight than the everyday citizen.

More than one observer commented that the legislative outcome seems to have been pre-determined, and that what happened between February 1st and May 28th was just window dressing, a process gone through in order to get to the desired outcome.

A brief summary is below. In-depth analysis will obviously take more research, but it is evident that Oklahoma needs to clean house in November, and send truly limited-government statesmen, not politicians, to the OK Capitol next session.

Status of Limited Government Bills

HB 2317

- by Wright/Newberry - OK Enumerated Powers Act. Failed to get out of the House by a vote of 34-60 on 3/10/10. There are 62 Republicans in the House, most of whom campaigned for limited government. Go figure.

HB 2569

by Wesselhoft/Newberry - Prohibiting RFID tracking tags in the OK DL/ID cards. This popular bill passed both the House and the Senate and was sent to the Governor on 4/26/10. Governor Henry vetoed the bill 4/28/10.

NOTE:

HB 2569 was targeted from the beginning by an out-of-state special interest group called SIA (Security Industry Associations, in Alexandria, VA). On 1/26/10 a representative from SIA called Wesselhoft asking him to drop this bill; Wesselhoft refused. Later, legislator-turned-lobbyist Jim Dunlap, representing HID Global (a SIA member), attempted to amended the bill to allow for RFID tracking tags on the OK DL/IDs. After much uproar the amendment was withdrawn. On 4/26/10 SIA CEO Richard Chace sent a letter to the Governor asking him to veto HB 2569; Henry vetoed the bill on 4/28/10. The House ran a veto override on 5/11/10 which failed 69-19. [13 members were excused, several of whom walked the vote]. Although support was secured for a 2nd veto override attempt, House leadership balked and wouldn't run it.

HB 2811

-

by Key/Kern/Brogdon - Biometric and Social Security Number Religious Exemption Act. HB 2811's original language was amended to include the religious exemption language and went through several amendments and modifications to satisfy both the Dept. of Public Safety and the Dept. of Human Services; it got nowhere in the end.

NOTE

: The amended version of the bill was not heard although the authors were told it would be. Leadership never intended for this bill to make it to the floor, but the authors and the bill's supporters, including several pastors, were strung along all session. See Press Release below for the distasteful details.

HB 2814

-

by Key/Brogdon - Teaching the Founding documents in public school. Passed the House 52-34 on 3/11/10; never made it out of committee in the Senate.

HB 2994

- by Enns/Brogdon - Firearms Freedom Act. Bill stated the guns and accessories made and sold in Oklahoma would not be subject to federal regulation. Passed both the House and Senate and sent to the Governor 5/12/10. Henry vetoed the bill on 5/18/10.

SB1685

- by Brogdon/Key - Firearms Freedom Act. Same intent as above. Passed both chambers and went to the Governor on 4/21/10, who vetoed it on 4/26/10.

NOTE: A senate veto override attempt failed 28-16 on 5/5/10; leadership would not allow a 2nd override.

HB 3354

- by Duncan/Sykes - Known as the Open Carry bill, the bill modified the Oklahoma Self Defense Act. The measure made the previous "concealed handgun license" a "handgun license" to allow the carry of an unconcealed handgun. Passed both Chambers and sent to the Governor, who vetoed it on 5/14/10.

NOTE

: A veto override in the House failed 65-29 on 5/20/10. A few Republicans - Rep. Pam Peterson and Rep. Dan Sullivan (both of Tulsa) -

debated against

the veto override. It needed 67 votes to override the veto.

HJR 1054

- by Brogdon/Ritze - Known as the Healthcare Freedom of Choice bill, the bill stated that no person shall be required to obtain or maintain individual insurance coverage, and prohibited fines.

NOTE:

Vetoed by the Governor on 5/14/10. Veto override was successful in the House but failed in the Senate.

SJR59

- by Newberry/Thompson. Also known as the Healthcare Freedom bill, this constitutional amendment question passed both chambers and should be on the ballot in November.

NOTE

: The jury is still out on whether the language in SJR 59 (a person cannot be compelled to

participate

in any healthcare system) is better than HJR 1054 (a person cannot be

required to obtain or maintain

individual insurance coverage.)


Bad Idea Bills That Passed

HB 2331

- by Martin (Steve)/Stanislawski (Originally co-authored by Sen. Reynolds) - Allows for the seizure of uninsured vehicles by law enforcement. Modified and amended from it's original at-will, random insurance verification to requiring an accident or traffic stop.

NOTE:

This bill still gives too much power to the state. The taking of private property is not be entered into lightly, nor should it be done in retaliation for not buying a service or product. Unfortunately, HB 2331 does just that. Sent to the Governor 5/28/10.

SB 1908

- by Sykes/Tibbs - Passed both chambers and is now on the Governor's desk. Like HB 3250 [which did not get traction] this bill bans using an electronic device, e.g. cell phone or reading/writing a text message, while driving but specifically targets teenagers.

NOTE:

While no one is promoting distracted driving, what was not revealed during debate was how this law was to be enforced. How can law enforcement know, without a doubt, an electronic device was in use while the vehicle was in motion? The next logical step is to gain real-time access to telecommunications providers' systems while a car is in motion, effectively by-passing securing a search warrant for cell phone records. The current President has already asked telecommunications companies to work with law enforcement on this issue. Good-bye 4th amendment.
This bill was a bad move and is the opposite of limited government.


Game Playing - A Revealing Press Release


Game Playing at the Capitol

Three OK legislators [Representatives Sally Kern and Charles Key, and Senator Randy Brogdon] got tired of the game-playing at the OK Capitol this session and issued the following press release on May 26, 2010, two days before the end of session.

At issue was the depth and breadth of the state-sponsored collection of personally-identifiable biometric information from Oklahomans, and the run-around the authors and proponents of SB 2811 were given throughout the session.

Proponents of HB 2811 included several local churches and other people of faith concerned about having their personal information enrolled in a global biometric system.

The game-playing, which would be called 'deception' back home, was noticed by most of the citizens now lobbying at the Capitol.

Elections are in November.
____________________________________________________

PRESS RELEASE

Wednesday, May 26, 2010

Lawmakers are calling on House Leaders to protect Oklahoma citizens' religious liberties and stop the double talking and slow playing of HB 2811.

HB 2811 protects first amendment and religious freedom by allowing Oklahomans to opt out of enrollment into a global system of identification that directly links their body using biometrics to their ability to buy, sell and travel.

Rep. Sally Kern originally authored The Biometric and Social Security Number Religious Exemption Act which supports citizens 1st, 4th, and 5th Amendment rights; to be secure in their persons, presumed innocent, and protection of religious liberty. Rep. Kern's original bill was HB 2943.

"I worked for five weeks with DPS and DHS to fashion a bill that met all of their objections", said Kern. "We came up with such a bill only to run into a roadblock from Republican leaders. For reasons that they will not share with us, Speaker Benge and Rep. Terrill have blocked HB 2811 from coming to the floor for a vote. Evidently, there is something they value more than our religious freedom."

Hundreds of pastors and thousands and thousands of citizens have demanded that their religious rights be protected from a global enrollment system by passing House Bill 2811.

Rep. Charles Key agreed to incorporate the language of HB2943 into HB2811, a bill authored by Rep. Key. Senator Randy Brogdon is the Senate author.

Although the fiscal cost was minimal Kern, Key, and Brogdon worked with DPS and DHS regarding any costs associated with the bill. DPS said they supported the right of the people to make the choice about being able to opt out of providing their biometrics based on religious grounds.

"I find it extremely disturbing the House Republican leadership would not allow a bill to be heard that supports the First Amendment. HB 2811 provides for a religious exemption on the collection of biometric information. Speaker Benge and Rep. Terrill are complicit in allowing the state to continue the unconstitutional collection of bio metric information," said Sen. Brogdon.

Rep. Key criticized Speaker Benge and Rep Randy Terrill for abuse of power by refusing to allow the bill to go the full house for a vote. "The Speaker and other legislative leaders were never given the right to pick and choose which bills will get a hearing and which will not. The bedrock of our republic is representation by the people. When legislative leaders abuse their power and rob our freedoms in this way…. they silence the people and they have no voice in government."

Key said that constitutional rights are being denied by the Speaker Benge, and Rep. Randy Terrill, the Chair of the Public Safety and Judiciary Subcommittee. "Speaker Benge has decided not to hear HB2811, and he has placed the final say over this decision into the hands of Representative Randy Terrill. These two legislators will decide if we are to have religious freedom in Oklahoma or not. Are our God given rights to be denied by one or two men?"

Oklahoma opted out of participation in the Real ID Act in 2007 with the passage of SB 464.



| | | |
| --- | --- | --- |
| | | |
| | Oklahomans for Sovereignty and Free Enterprise, Incorporated (OK-SAFE, Inc.) is a non-profit 501(c)4 Oklahoma corporation made up of individuals and coalition groups dedicated to the Principles of American Free Enterprise and the Constitutional Sovereignty of Oklahoma and the United States of America. | |
| | | |
| | | |
| --- | --- | --- |
| | | |

"The public cannot be too curious concerning the
characters
of public men." --Samuel Adams

A Citizen's First Duty is to Determine if a Candidate is a Statesman or a Bagman – OK-SAFE, Inc.
Liberty cannot be preserved without a general knowledge among the people, who have a right, from the frame of their nature, to knowledge, as their great Creator, who does nothing in vain, has given them understandings, and a desire to know; but besides this, they have a right, an indisputable, unalienable, indefeasible, divine right to that most dreaded and envied kind of knowledge; I mean, of the characters and conduct of their rulers.- John Adams Dissertation on Canon and Feudal Law in 1765

No people will tamely surrender their Liberties, nor can any be easily subdued, when knowledge is diffused and Virtue is preserved. On the Contrary, when People are universally ignorant, and debauched in their Manners, they will sink under their own weight without the Aid of foreign Invaders. Samuel Adams letter to James Warren on November 4, 1775

Cherish, therefore, the spirit of our people, and keep alive their attention. Do not be too severe upon their errors, but reclaim them by enlightening them. If once they become inattentive to the public affairs, you and I, and Congress, and Assemblies, Judges, and Governors, shall all become wolves. - Thomas Jefferson letter to Edward Carrington on January 16, 1787

Government is instituted for the common good; for the protection, safety, prosperity, and happiness of the people; and not for profit, honor, or private interest of any one man, family, or class of men; therefore, the people alone have an incontestable, unalienable, and indefeasible right to institute government; and to reform, alter, or totally change the same, when their protection, safety, prosperity, and happiness require it. - John Adams Thoughts on Government in 1776
"Let the pulpit resound with the doctrine and sentiments of religious liberty. Let us hear of the dignity of man's nature, and the noble rank he holds among the works of God. ... Let it be known that...liberties are not the grants of princes and parliaments." -- John Adams



IDENTIFY
CONSTITUTIONAL
CANDIDATES

101 Constitutional Questions To Ask Candidates
- National Center for Constitutional Studies
Because so many millions of Americans finally realize that something is seriously wrong with the way the government is handling our affairs, people are continually asking: "Do you think there is still time to turn it around?"
When you ask, "Still time before what?" they usually reply: "Before total disaster overtakes us!"
For those who wonder about such things the answer is this: "Yes, there is still time, but not much."
The next question is: "What can we do to get America turned around and regain our national sanity?"
The answer is: "Elect a President and a majority in Congress who still believe in the Constitution and will fight to return America to her original moorings."
Identifying Constitutional Candidates
"But how can you tell when a candidate for political office is really a Constitutionalist?"
If the candidate is already in office he will have a voting record which will clearly show whether or not he is a Constitutionalist. Several organizations monitor the Congress and publish the results.
However, if the candidate is a newcomer to politics you will have to test his knowledge of Constitutional principles by asking a few questions.
We are listing a few of the many questions which might be addressed to a candidate in order to determine whether or not he stands for those basic principles advocated by the Founding Fathers.
What Kind of Questions Should Be Asked?
Please send technical comments and problems to: webmaster
Fair Use Notice: This site contains copyrighted material, the use of which may not always have been specifically authorized by the copyright owner. Such material is made available for educational purposes, and as such constitutes "fair use" of any such copyrighted material as provided for in Section 107 of the U.S. Copyright Act. In accordance with Title 17 U.S.C. Section 107 the material on this site is distributed without profit to those who have expressed a prior interest in receiving the included information for research and educational purposes.
Our Privacy Policy: The only personal information we give to any third party is the information you provide to us when using your debit or credit card to make a donation or purchase. All other information and correspondence are strictly confidential. We never sell, give away or barter mail lists or other information to any person, business, organization or corporation for any reason. We will not provide any personal information about you to any government or agency or employee of any government, foreign or domestic, except when we are under a court order to do so.